To Write Love On Her Arms
is a really awesome non-profit organization that is dedicated to presenting hope and finding help for people struggling with depression, addiction, self-injury and suicide. it exists to encourage, inform, inspire and also to invest directly into treatment and recovery.
if you would like to know more about their vision, blog, etc. check it out
HERE
and today is To Write Love On Her Arms day. and everyone who is showing their support is literally writing
love
on their arms.
this is my support
mine is a little more conservative... here's a pic of someone who really decked out.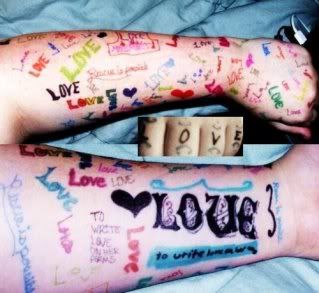 to view more pics of people who wrote
love
on their arms, click
HERE
.
i really wish i had this t-shirt so i could have worn it today
and a little fyi... anberlin, my favorite band, was one of the first few bands to wear TWLOHA shirts and promote this organization.
they're awesome.... here's a link to one of their music videos called
The Unwinding Cable Car
:D